Let customers speak for us
Add ons.
The add ons for these blankets are absolutely beautiful
Sophia joan
I couldn't be any happier with how this blanket looks and feels my daughter loves it.
Jacomina Joan
I got this for my niece and absolutely in love with it!
10000000/10
Absolutely stunning, quality is incredible, will definitely be ordering again
Personalised milky blanket
So very happy with my order. I have told all my family and friends about you guys. Highly recommended to everyone. This little business will take over the world with all our support. I WILL be back. xx
Amazing
I just love it, it's so soft and cosy, my new little one loves it as well, it fits as a warm blanket for her cot so she falls asleep rubbing it because of how soft it is, will definitely order again, thank you so very much
Amazing
I LOVE THE BLANKET THAT I BOUGHT FOR MY BABY, SHE ABSOLUTELY LOVE IT
ILL BE BUY MORE FOR CHRISTMAS
Stunning!
This blanket is amazing! So beautifully made and the personalisation makes it the best gift ever. Really amazing quality, highly recommended. Looks even better than the pictures! Will be buying more! Came earlier than expected also. Buy it and you won't regret it.
Custom Made Sheets
Danoah were so helpful in making sheets custom sized to fit my small cot. Communication was excellent and the sheets are beautiful! I will be ordering more!
Absolutely beautiful
The photos can't do this blanket justice, it's so cute - and so soft, thank you
Love It!
I found Danoah through Facebook and was hesitant to order as I wasn't sure if they were a dodgy site, but after reading reviews and seeing that the blankets were very reasonably priced, I ordered one for our first child that we are currently expecting. I made an error with the name on our blanket when I ordered, and emailed the Customer Service team. They responded right away and fixed up my error with no issues! It arrived relatively quickly (I live remote) and is lovely quality. Hubby and I both love this soft blanket and will definitely be ordering more from here! The baby dinosaurs on the print are so cute and I love the matching turquoise backing. Thank you for a beautiful personalised product for our first child.
Beautiful blanket
Absolutely beautiful blankets my son loves his worker worker blanket (that's what he calls it) I will definitely be ordering again.
Blanket
We ordered a personalised baby blanket for a friend and it was just the sweetest. Thank you for being able to create something so magical and personal. I'll be back for another order that's forsure. Thank you.
Super satisfied
I am totally in love with my daughters cot set
The quality is stunning 😍
Love This!
I have been looking at the Personalised Deluxe Minky Dot Blanket since I found out I was pregnant and when we named our baby I thought that's it I am buying it. I was then again beyond blown away at the quality when I received it. Even after washing it has remained as soft and perfect as ever. I ordered in the medium size (63.5cm x 89cm) but may need to also get a bigger one as our child grows because they are just so beautiful. These make a perfect gift for a new baby and I would recommend to anyone.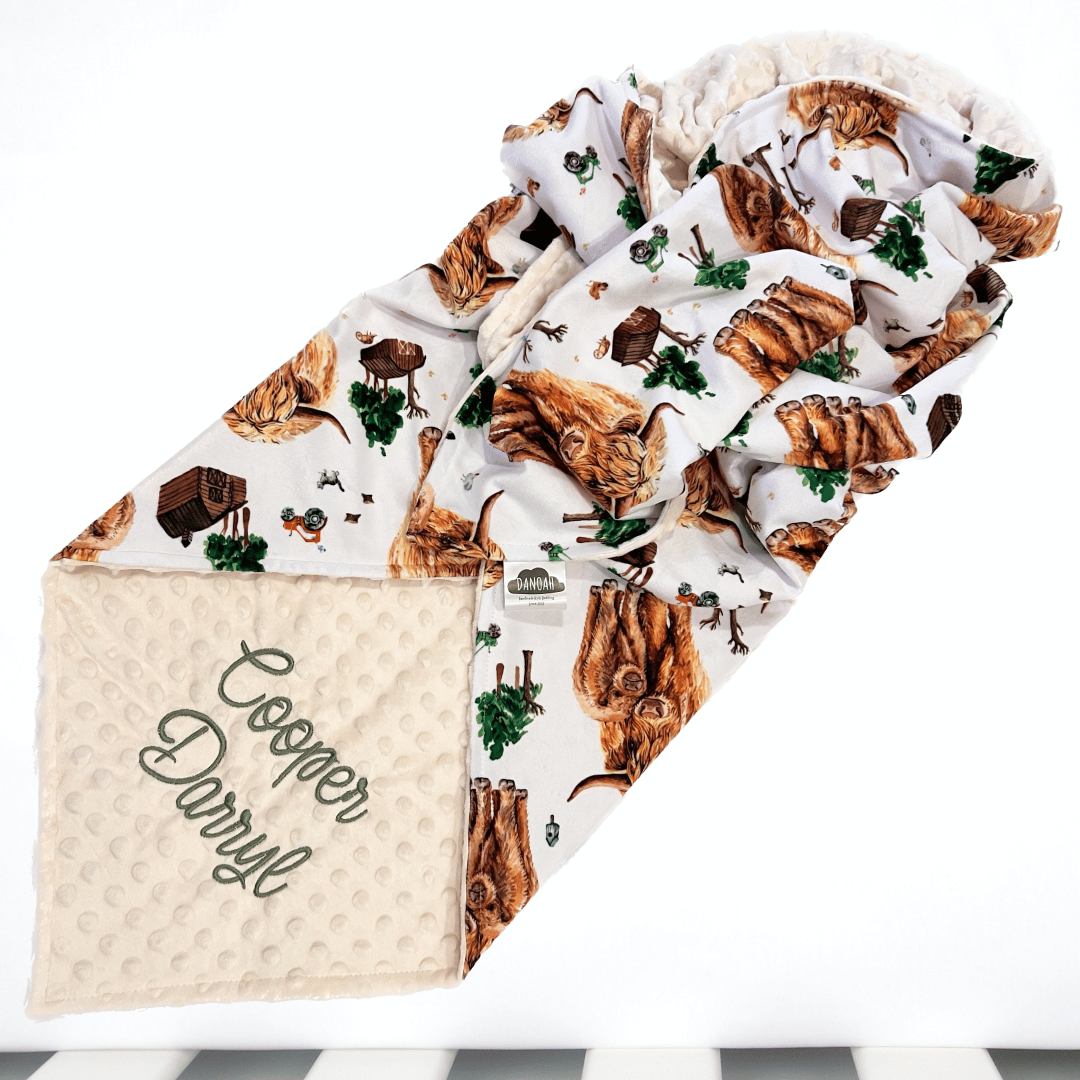 NEW: Farming Highland Cow Personalised Deluxe Minky Blanket
This super cute "Farming Highland Cow" Personalised Deluxe Minky Blanket was voted in by YOU!!
Order Now
"Aussie Animals" Christmas Edition Now Available
Our 'Limited Edition' Christmas Aussie Animals Personalised Deluxe Minky Blanket is now available!
Shop Now
NEW: "Highland Cow" Personalised Deluxe Minky Blanket
Get ready to cuddle up with our adorable Highland Cow design featuring Mum and Bub Cow - it's a huggable masterpiece!
Designed with versatility in mind, this blanket features neutral colours that complement any decor.
Shop Now